Raise Sails, Not Taxes
The pandemic has left Rhode Island with significant revenue loss after forced government shutdowns. Now, legislators are being pushed by public-employee unions and the socialist-left to make us pay for their incompetence ... by seeking to raise our income and gas taxes. These are not burdens Ocean Staters can bear. Learn More
TCI = Gas Tax: Already with some of the highest energy costs in the nation, Rhode Island now wants to punish you for driving your vehicle by steadily increasing the price of gas by up to 23-27 cents per gallon.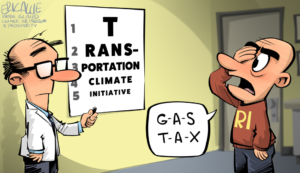 With virtually NO environmental benefit, the extra money you pay for gas will fund wasteful pet projects of the extreme environmental left.
TCI = MONEY OUT OF OUR POCKETS = FEWER JOBS
A major study by the RI Center for Freedom & Prosperity found that the Transportation Climate Initiative (TCI), in 5 years will:
Result in $1205/yr less money for the average household and will disproportionately harm low-income families

Result in a net loss of 1856 Rhode Island jobs

Reduce investment in business by $826 MILLION

Reduce state economic output by $416 MILLION per year

TCI is unfair: under the scheme, global carbon emissions would be reduced by just 0.0000016, while Ocean Staters would bear ALL of the above costs
The worst time to raise taxes is during an economic crisis. Jobs and businesses will be destroyed, while your family will have less disposable income. The left only cares about their precious state budget and keeping spending levels high … they don't care about your business or family budget.
High taxes have long plagued Rhode Island. Already with the worst business climate in America, residents have been forced to leave our state in droves.
#RaiseSailsNotTaxes
It's time to tell legislators to stop with the high taxes!
We need Rhode Island to become a more prosperous place to raise a family and build a career…and maybe even own our own boat.
***
FREE MARKETS DESTROY … higher taxes lead to a bigger government … and a smaller free enterprise system. Big-government advocates do not understand that FREE MARKETS DESTROY the conditions we DON'T want.
FREE MARKETS:
Destroy Privilege
Destroy Poverty and Hunger
Destroy Broken Models of Education
Destroy Disease
Destroy High Rents
Destroy Pollution and Climate Change
Destroy Boredom
Learn more at FreeMarketsDestroy.com
Take action now to stop higher taxes in Rhode Island! Click below to learn more and to make your voice heard.
Learn More